This is sad. It doesn't have to happen. If western planes are able to drop bombs, why can't they drop food?
MSF [Médecins Sans Frontières] says 23 people have died of starvation at its clinic in Madaya, one of the many towns where President Bashar al-Assad's forces have used siege tactics to weaken territories controlled by rebels fighting to oust him.

"Madaya is now effectively an open air prison for an estimated 20,000 people, including infants, children and elderly. There is no way in or out, leaving people to die," said Brice de le Vingne, director of operations for MSF. ….

Activists are sceptical of UN promises that it will be able to access Madaya soon.

"The UN is amazing. It feels like they are like a retirement home, except even a retirement home has more vigour than they do," said Youssef al-Bustani, who lives in the besieged countryside east of Damascus. "They're waiting for the regime's permission to feed children starving under siege?"

President Assad's forces first used the siege tactic in 2012, and since then it has become increasingly deployed by all sides in the five-year civil war to try to starve out opponents.

Erika Solomon, "Dozens die of hunger in besieged Syrian town", Financial Times, 9 January 2016 (metered paywall).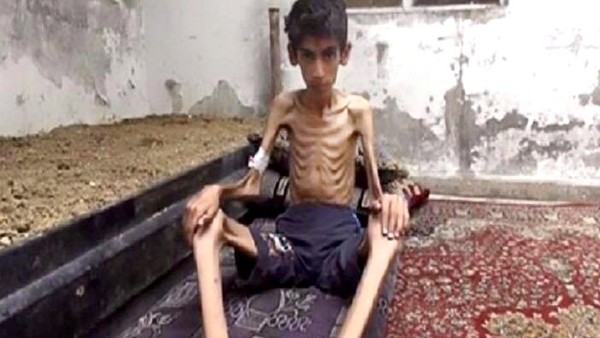 A child in the besieged town of Madaya (source: FT.com).